Our chart for this month looks at Foreign Direct Investment (FDI) in 2022 and comes from Navigating Through Turbulence, the EY UK Attractiveness Survey.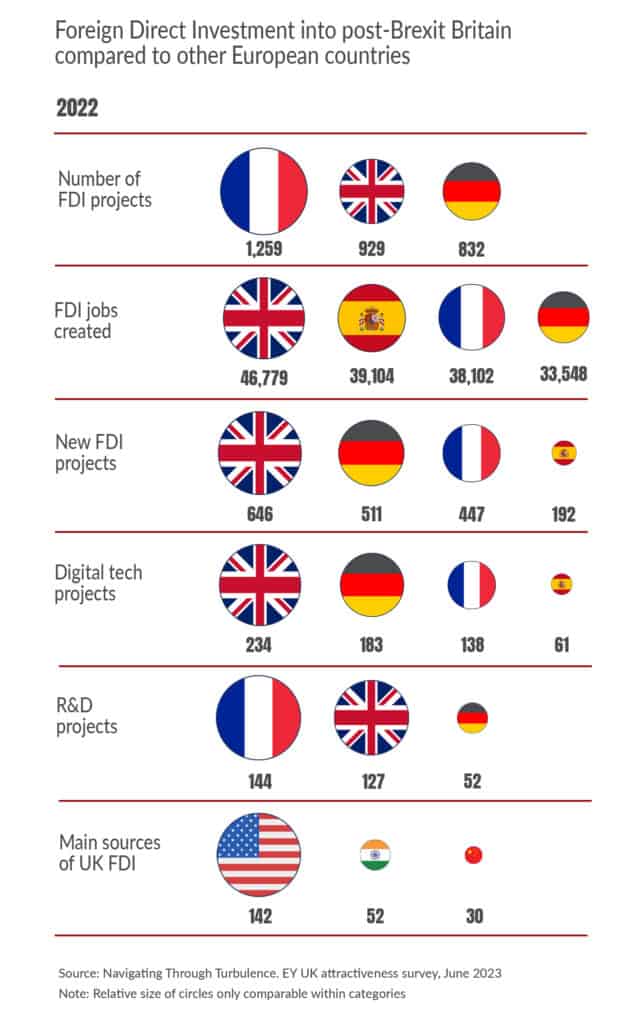 As the chart shows, it turns out that, despite all the angst and gloom, post-Brexit Britain still does well in attracting FDI. Who also does well? France – with its high tax burden, high regulation, inflexible labour market, and anything else that people have thrown at it for some time.
Which begs the question: do we really know what attracts FDI overall? Probably not, though that won't stop pundits claiming they know it all.
According to the report:
"Many major points of strength for the UK shine through in the project statistics on sectors and activities, with the UK retaining number one spot for digital tech and financial services investment, and also performing well in life sciences.
"From a functional perspective the shift to value is evident — the UK continuing to lead in attracting HQs, and increasing the number of R&D and manufacturing investments. From a regional perspective — while there was a decline in the number of projects into London, the regional performance was better, with volumes holding firm or increasing, suggesting that levelling up in FDI is becoming more of a reality.
"Perceptions of the UK remain high on fundamentals such as its quality of life and legal system, bolstering its attractiveness as a headquarters location. It remains a large and vibrant consumer market. And it has acknowledged sector strengths in areas like digital, life sciences and financial services, plus huge potential in renewables due to its geographical advantages and stated policy goals.
"These attributes — together with the openness of its economy, global historical links and the pivot to 'Global Britain' — help to explain why the UK continues to attract a more global cast of investors than most other FDI destinations."
All this during a period of exceptional political turbulence and instability in Britain as well as Brexit. "[The UK has] succeeded in maintaining a steadier course in terms of FDI and attractiveness than many might have expected," write the authors.
Nothing is perfect. The UK risks losing out on FDI projects for which access to the EU Single Market is a determining factor – maybe enough of a factor to swallow the burden of French taxes. The UK government is attempting to overcome this by touting the benefits of investing in Northern Ireland.